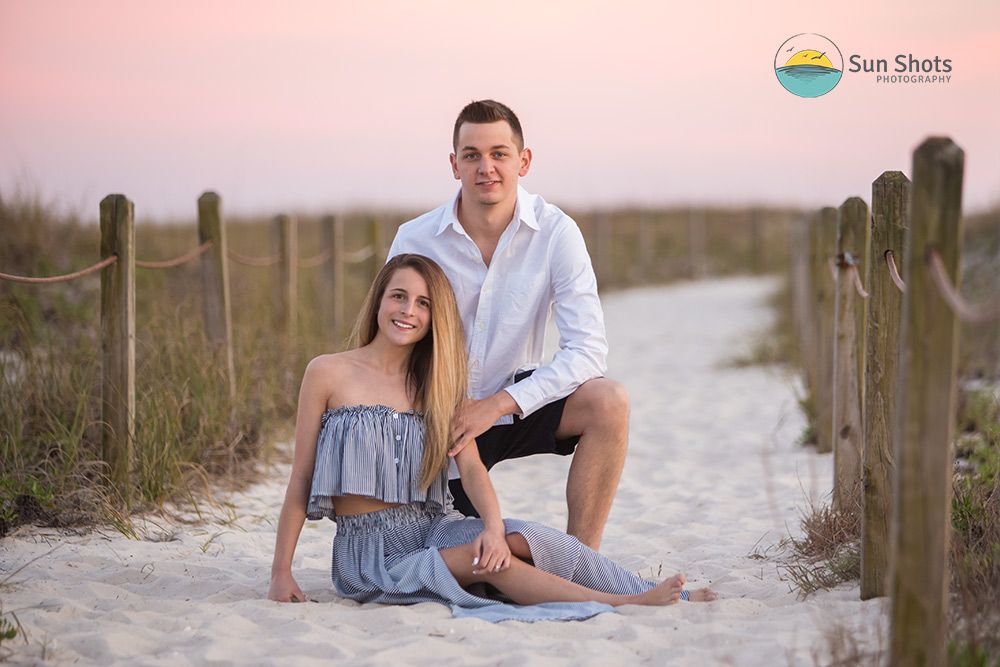 Couples Photography
Whether you are looking for someone to capture your surprise engagement, need engagement portraits, or just looking for a romantic couples photography session, you are definitely in the right hands with us. We want to help you show the world your love story and we know exactly how to make it happen!
No Location Fees
Full Hour Long Sessions
No Minimum Orders
Upgradeable to a Deluxe Unlimited Digital Download Photo Package
Serving Gulf Shores, Orange Beach, and Perdido Key
No Hidden Cost
SESSION DURATION:
Our sunrise sessions start a few minutes before sunrise and last an hour. We only offer hour sessions for beach portraits because we like to take our time with our clients in order to create a natural, relaxed and fun beach portrait experience! Anything less is a sacrifice in quality that we are not willing to take. We make awesome, and there is just no recipe for doing it quickly!
ADDITIONAL INFORMATION:
All images in your gallery will receive free standard image edits for color correctness and tone. All prints that are ordered via your gallery will receive complete photoshop edits.
With all of our couples photography sessions, all high-resolution digital downloads can be purchased ahead of time or once you get home and see the images, with no limits on how many you can select. If you upgrade to a deluxe digital download photo package, you will also receive a 50% off prints promo code for use in your gallery if you decide to order prints from us.
We are a husband and wife team and we work seamlessly together to capture as many different poses as time allows. We utilize professional studio strobes and the images we will present to you will be absolutely stunning.
As you look through our family beach portfolio, please notice our style of photography. We utilize professional studio-strobe lighting at every beach portrait session. We use a technique called "Bare Bulb Photography", and though it is extremely hard to master, it gives our portraits a significant pop that we feel is crucial in professional beach photography. It is part of the reason why our art stands out from the crowd.
For our couples sessions, there are no limits on poses and we work as a team to capture truly stunning art that you will cherish forever. We have no location fees or required minimum orders. You simply pay the session fee and then order high-quality professional prints from us for up to a year after your session. The session fee for a couples session is $150.
Please click HERE to see a sample couples portrait gallery, which will be just like the one you will receive (2) days after your own photo session. We only offer couples sessions at sunrise because of the lack of people on the beach and the softer lighting conditions that yields better romantic results that you will love.
LOCATION:
If you are staying in Gulf Shores, Fort Morgan, or Orange Beach, we are licensed to work in the Gulf State Park, or you are welcome to ask to meet at our favorite beach just across the line in Florida and avoid all the overcrowded beaches. If you are staying in Perdido Key, we meet on the Key at our favorite beach in all of Florida!
Click here to see more of our Couples Photography and please CONTACT US anytime for our pricing information.
Also, check out a complete couples beach photography session by watching the video below!